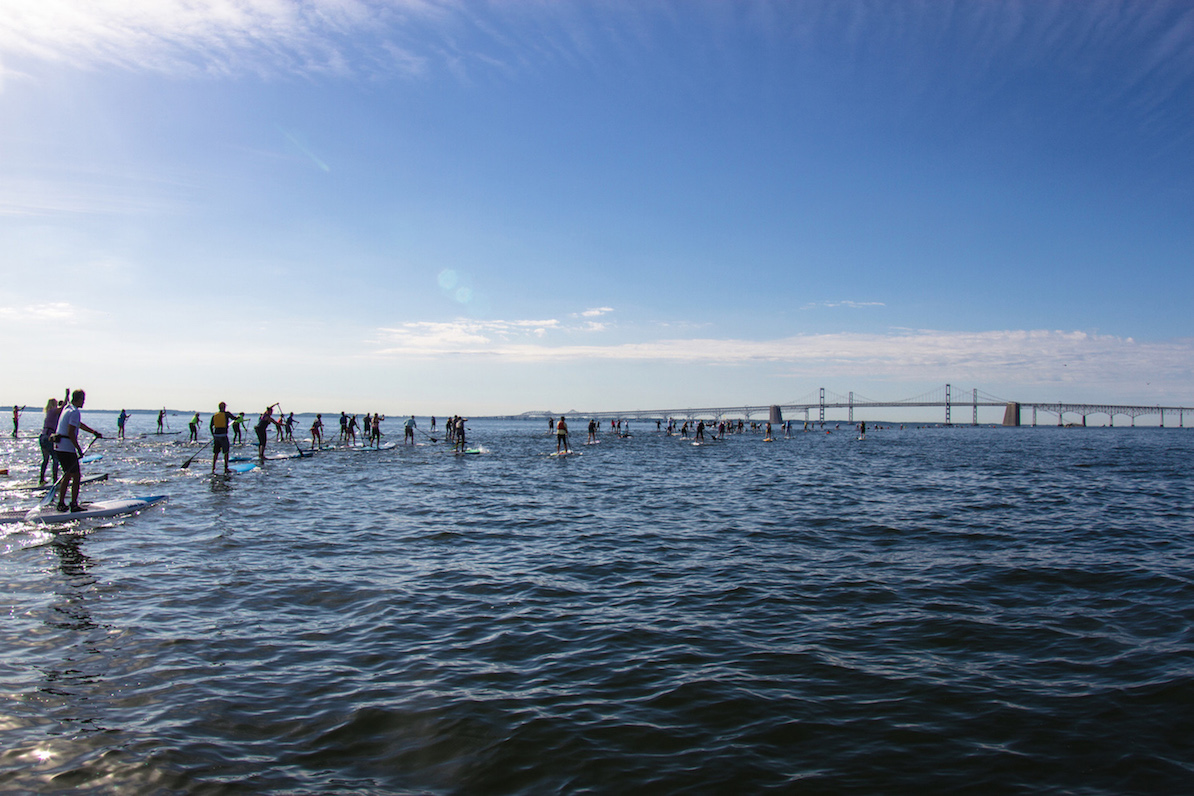 ECORA OC1/OC2/OC6 Point Series Race (Kent Island Outrigger Canoe Club)
Water enthusiasts of all ages and expertise are invited to join us in the second annual Bay Bridge Paddle, open to Stand Up Paddleboards, Kayaks and other paddle craft on Saturday, April 29, 2017.
New this year, we will have packet pick-up on Friday, April 28, along with a not-to-be-missed clinic sponsored by Mercy Medical Center's Orthopedic & Sports Medicine surgeon John-Paul Rue, M.D. and a variety of vendors for those last minute race purchases. The official hotel sponsor, Crowne Plaza in Annapolis, will be hosting the Friday night events. In addition, they have a block of rooms on reserve for our out of town guests. Please see the FAQ on our website for discount & hotel details.
Paddling any part of the Chesapeake Bay waters is a thrilling experience and launching from Sandy Point State Park is no different. With a beautiful sandy beach on the Western Shore of the Chesapeake Bay, you are provided with expansive views overlooking the Bay Bridge. This race will bring together all levels of paddlers to share in a day of camaraderie and fellowship. Each race will present a different experience and challenge, the bay's shifting conditions add to the fun as racers can experience anything from flat water glides to gusty winds and unpredictable swell and tides from the wind and current.
The Elite race will challenge racers with a high level of fitness and paddling experience; racers with less experience or conditioning can enjoy the 5K Paddle or the 1.5K recreation course closer to shore. In addition to these races, there will be other memorable events to entertain everyone, and with the generous backing of our sponsors, cash and prizes will be awarded!
All race participants receive a commemorative T-shirt and a carb-loaded breakfast to help get you energized for the race. When you return from the race and are ready to refuel, you will also receive a complimentary delicious, fresh, healthy lunch package. (Breakfast sponsored by Naval Bagels and lunch provided by Fresh Market) There will be other breakfast and lunch food items for sale for all attendees during the event.
Plan to spend the day at our expanded beach party. Celebration and awards will be held following the races at Sandy Point State Park.
The event will benefit local charity, the Foundation for Community Betterment (www.communitybetterment.org), whose goal is to better the lives of the people in our community by doing small acts of kindness.
Contact: Deb Hall